Playing is essential for children. When playing outside they develop even better. Being outside and playing is extremely important and good for the development and growth of your child. De Vier Seizoenen focuses on experiencing nature. In our gardens, our guests can explore insects, plants, vegetables, fruit and much more. Naturally always guided by our team. We have created our gardens, also known as our green oasis, in collaboration with TV gardener Lodewijk Hoekstra, the greenest gardener in the Netherlands, during his program Lodewijks Groene Geluk. Read more about the landscaping of our gardens below.
Green, green and even greener
Our green oasis offers room to discover, play, run, climb, fall and get back up again. On hot summer days, in the snow, in the rain. We always go outside. We enjoy being outside, it's true relaxation. We let our guests experience what grows and blooms in the garden and how it feels, smells and tastes.
Our four gardens
Our outdoor space is divided into four gardens:
The picking garden in which we grow, harvest and pick fruit and vegetables together with our guests! We are also working on our herb garden and like to feast on the goodies from the garden. We have a team of volunteers consisting of grandparents. If you are also interested in becoming a volunteer, please contact us.
The teletubby garden, a large lawn with different levels. Challenging but safe to (further) develop your child's mobility skills.
The willow garden, where we can snuggle up in the willow hut, walk through the bamboo forest or play with our natural playground equipment.
The sports and games field with a large green lawn where the little ones can feel the grass, and the bigger children are free to move around.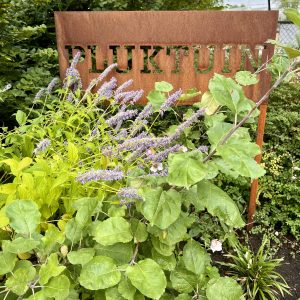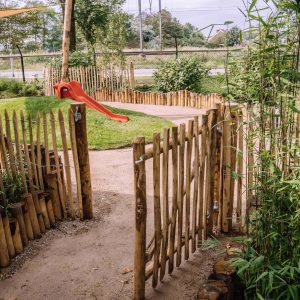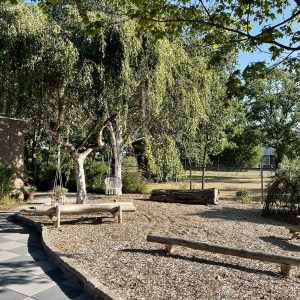 Lodewijk's Green Happiness
Our green oasis has been designed and landscaped by TV gardener Lodewijk Hoekstra and his team. His program Lodewijks Groene Geluk (Green Happiness) features in the second season how we have created the garden together. From a wild garden to a green oasis; we are so proud of the end result! Feel free to request a tour to come and see. Watch the episodes below.